Table of Contents

Back By Popular Demand —
Dial Bore Gauge Setting Fixture
This popular dial bore gauge setting fixture is FINALLY back in the product line. We've been searching for replacement direct reading micrometer for what seems like ages, and at last we've been successful.
With heavy, billet steel construction and a quality Mitutoyo micrometer, you can set dial bore gauge quickly and accurately between 2" and 6". Will work for most popular dial bore gauges including Mitutoyo, Phase II, Fowler and Peacock.
Tips & Tricks for Setting a Dial Bore Gauge
The Techxperts™ here at Goodson frequently get questions about how to properly set a dial bore gauge so we decided to devote this edition of Tech Notes to the basics and some tips to make it easier.
Setting a dial bore gauge is a simple concept
Engine Builder Interview
Tim Wilkerson
Joe Castello and Lake Speed Jr sit down with one of Nitro Funny Cars' best-known personalities, Tim Wilkerson.
In this enlightening and entertaining session, Tim talks about his experiences coming up through the industry, tells a few stories, and shares his advice for those who are just getting started in racing. He even throws a little good-humored shade at his fellow racers.
New On the Goodson Website EZ Order Form
If you have a long list of items and you know the order numbers, this EZ ORDER FORM is for you! Simply enter the order number in the box. You'll see a list of the possible matches. Select the one you want then add the quantity you need. To add another item, select the "Add Another Item" and repeat. When you have everything entered, Select "Add Items to Cart" and complete your order.
During the month of October, we're celebrating the Workiversaries of three employee-owners - Al Czaplewski, Brian Albrecht and Paul Schmidtknecht. These three have a combined total of 64 years of service!
First up, is Brian Albrecht, who is celebrating 31 years of service this year. Brian has worked in a variety of department including shipping and receiving. Outside of work, Brian is a devoted fan of NTPA Tractor Pulling. In fact, he's even on a pulling team these days.
Next up is Al Czaplewski who is celebrating 30 years of service this month. Al is a member of the IT team here at Goodson working to keep our computer systems operational.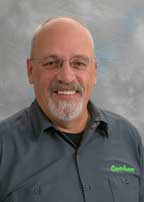 Last, but of course, not least is Paul Schmidtknecht, a 3-year veteran of Goodson. Paul is a member of the Tech Department and has attended every PRI show since he started with Goodson. Outside of work, you'll find Paul with his family or out fishing.
Join us in congratulating these employee owners on their years of service!